Nutritional Supplements for General Nutrition Women
Women of every age, height, weight, and activity level have at least one thing in common: We need certain nutrients that our bodies don't make, but require to function properly.
It's difficult to know with 100 percent certainty that we're getting precisely enough nutrients to fend off symptoms of deficiency and related illnesses. Taking specific supplements is like insurance for those instances when you accidentally consume your weight's-worth of sweets and call it dinner. If you have or are at risk for a vitamin and/or mineral deficiency, as may be the case for pregnant women or vegetarians, then your doctor may need to intervene by recommending a supplement.
Below is a list of Pure Encapsulations supplements that their research has found to be effective in improving general health in women. To order or learn more about each supplement, just click on the link below and you will be able to order through our account.
EPA/DHA Vegetarian
EPA/DHA Essentials
Krill-plex
Vitamin D3
B12 Folate
Cal/Mag/D Liquid
Chaste tree (Vitex)
Breast Health Complete
Black Currant Seed Oil
ProSoothe II
Black Cohosh
GeniBalance
PhytoBalance
Cranberry/d-Mannose
Women's Nutrients
Nutrient 950
Women's Pure Pack
PreNatal Nutrients
LiquiNutrients
Lactobacillus Sporogenes (active probiotic culture)
About Pure Encapsulations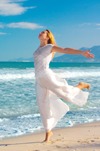 Pure Encapsulations was manufacturers the highest quality hypoallergenic supplements. Because Pure Encapsulations supplements are hypoallergenic, there are absolutely no hidden fillers or coatings, binders, shellacs, artificial colors, fragrance or excipients in their products that would disrupt or diminish the bioavailability of any of their ingredients. Furthermore, their products are free of wheat, yeast, gluten, corn, sugar, starch, preservatives or hydrogenated oils. The ingredients in Pure Encapsulations are selected solely on the basis of quality and purity and are provided in their most potent and bioavailable forms.
Pure Encapsulations is a professional brand. Pure Encapsulations products should be administered by recommendation and under the supervision of a healthcare professional. For specific questions about your health, please consult your healthcare provider. Consult your physician before taking any new supplement as they can cause drug interactions or other complications.