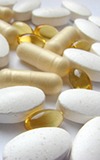 Randi Fredricks, Ph.D.
Approximately 1 in 4 adult Americans have been diagnosed with a mental disorder, which translates into about 58 million people. Though the incidence of mental disorders is higher in America than in other countries, a World Health Organization study of 14 countries reported a worldwide prevalence of mental disorders to be up to 26.4 percent. Additionally, mental disorders are among the leading causes for disability in the US as well as other countries.
Common mental health disorders include mood disorders, anxiety disorders such as post-traumatic stress disorder (PTSD), panic disorders, eating disorders, attention deficit disorder/attention deficit hyperactivity disorder (ADD/ADHD), and autism. However, the four most common mental disorders that cause disabilities are major depression, bipolar disorder, schizophrenia, and obsessive compulsive disorder (OCD).
Typically, most of these disorders are treated with prescription drugs, but many of these prescribed drugs cause unwanted side effects. For example, lithium is usually prescribed for bipolar disorder, but the high-doses of lithium that are normally prescribed causes side effects that include: a dulled personality, reduced emotions, memory loss, tremors, or weight gain. These side effects can be so severe and unpleasant that many patients become noncompliant and, in cases of severe drug toxicity, the situation can become life threatening.
Complementary & Alternative Medicine for Mental Health
Complementary & Alternative Medicine (CAM) for Mental Health includes a broad range of non-medical substances used for treatment or prevention, from yoga to SAM-e to fish oil. When should people interested in mental health and overall wellness consider using alternative treatments for mental health?
Researchers have observed that the prevalence of mental health disorders has increased in developed countries in correlation with the deterioration of the Western diet. Previous research has shown nutritional deficiencies that correlate with some mental disorders. The most common nutritional deficiencies seen in mental disorder patients are of omega-3 fatty acids, B vitamins, minerals, and amino acids that are precursors to neurotransmitters.
Compelling population studies link high fish consumption to a low incidence of mental disorders; this lower incidence rate has proven to be a direct result of omega-3 fatty acid intake. One to two grams of omega-3 fatty acids taken daily is the generally accepted dose for healthy individuals, but for patients with mental disorders, up to 9.6 g has been shown to be safe and efficacious. Western diets are usually also lacking in fruits and vegetables, which further contributes to vitamin and mineral deficiencies.
While some activities, like exercise, are good for everyone who is physically able to do them and have no uncontrollable side effects, most decisions about CAM treatment options, and especially the decisions faced by people coping with serious mental health conditions, involve trade-offs. Nonetheless, 40% or more of Americans self-treat themselves with CAM without professional supervision, often without disclosing it to their psychiatrist or primary care provider.
Moreover, many patients who use CAM remedies also take prescription antidepressants, risking potentially dangerous adverse herb/drug interactions. While most natural psychotropics are generally safe, they are not risk free, and the common public misconception that natural products are inherently safe has been refuted by predictions and reports of toxic reactions from these agents, which may be due to intrinsic toxicity, contamination, or interaction with other herbs or drugs.
People considering using CAM treatments need to make an informed decision, just as they would with any synthetic medication or other treatment, weighing the evidence about effectiveness, drug interactions, side effects, and less dangerous options, to come up with a risk/benefit calculation. These are the issues that any physician must consider, and that anyone considering CAM treatment should consider. But the blizzard of competing claims poses a real challenge to getting efficient access to reliable evidence about safety and efficacy. This effort is an attempt to help fill this void.
References
Firth J, Stubbs B, Teasdale SB et al. Diet as a hot topic in psychiatry: a population-scale study of nutritional intake and inflammatory potential in severe mental illness. World Psychiatry 2018;17:365-7.
Teasdale SB, Ward PB, Samaras K et al. Dietary intake of people with severe mental illness: systematic review and meta-analysis. Br J Psychiatry 2019;214:251-9.
van den Berk-Clark C, Secrest S, Walls J et al. Association between posttraumatic stress disorder and lack of exercise, poor diet, obesity, and co-occuring smoking: a systematic review and meta-analysis. Health Psychol 2018;37:407-16.
Jacka FN, Cherbuin N, Anstey KJ et al. Does reverse causality explain the relationship between diet and depression? J Affect Disord 2015;175:248-50.
Tolkien K, Bradburn S, Murgatroyd C. An anti-inflammatory diet as a potential intervention for depressive disorders: a systematic review and meta-analysis. Clin Nutr (in press).
About the Author
Randi Fredricks, Ph.D. is a practicing therapist, researcher and author specializing in the treatment of anxiety, depression, addiction, eating disorders, and related disorders. Dr. Fredricks is a best-selling author of several books on complementary and alternative treatments for mental health. For more information on Dr. Fredricks work, visit her practice website www.DrRandiFredricks.com.