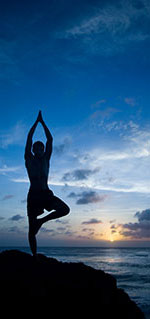 Tai chi, yoga and qigong are grouped into a new category of exercise called "meditative movement" although they are still considered to be mind-body interventions.
Meditative movement is defined as a form of movement or body positioning that focuses on breathing and a cleared or calm state of mind with a goal of deep states of relaxation.
Research has found mind-body exercise and meditative movement to be superior to aerobic
exercise in the treatment of mental health.
Tai chi, yoga, and qigong are very different from aerobic workouts. While a long run or a swim can leave you exhausted, ancient mind-body practices have the power to do just the opposite; producing more energy than they consume. When you practice tai chi, yoga and qigong, you feel calm, invigorated, clear-headed, and experience a sense of renewal.
Tai chi, yoga and qigong all consist of postures and movements designed to emphasize relaxation and reduce stress. People have been practicing these healing postures for thousands of years, but it's only recently that scientists have begun to learn how they affect our brains. In a manner similar to meditation, tai chi, yoga and qigong have the power to increase brain volume and have other positive neurological effects.
Scott Cole: Discover Tai Chi: A Half-Hour of Peace (DVD)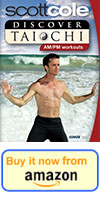 From waking up to winding down, Discover Tai Chi with Scott Cole has two complete easy-to-follow workouts designed to improve balance, strength, flexibility, and energy flow, while letting go of stress and anxiety.
The morning workout  help you greet the new day as you experience strength in slow motion with an empowering blend of gentle flowing Chi Kung exercises and graceful grounded Tai Chi postures. The workout concludes with light stretching and a relaxing focused meditation to help you ease into your day with centered balance and enthusiasm.
The evening workout  clears out tension and stress as you open up your Chi to let go of the day–lengthening the spine, alleviating pent-up anxiety with a blend of Tai Chi postures, Chi Kung, movement therapy, light stretching, and a quiet guided imagery session with Scott that will help you breathe better, sleep better, and balance body, mind and spirit.
Gentle Yoga for Balance, Flexibility and Relaxation (DVD)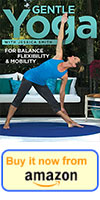 These yoga inspired stretch routines are perfect for those brand new to yoga and offer options for progression. No previous yoga experience required, and no chanting or sanskrit terminology used.
The camera work usually shows the instructor from head to toe and takes in the scenery in the background. If you have a large screen TV you will appreciate it. You canl mirror her meaning she will tell you to move you right arm and she will move her left so that it is like looking in a mirror and this makes it really easy to follow along. The DVD itself is very easy to navigate from the main menu and the poses flow seamlessly one to another at an easy-to-follow pace to make the most of your time..
This DVD has two separate workouts or practices if you will, that both lengthen, strengthen and tone the body, and do so gently. No wacky binding moves, hand-stands, or pretzel twists necessary. Perfect for Yoga beginners, or advanced exercisers such as myself, who are looking to lengthen without pain and discomfort.
Qi Gong 30-Day Challenge (DVD)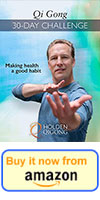 The deep breathing of qi gong relieves your stress, calming your mind and body on a cellular level, and immediately boosts your immune response.
Qi gong combines stretching, strengthening, flow, mindfulness, breath, and energy into one simple practice. Qi This DVD is the easiest way to gradually build up your qi gong practice and improve your health and well-being.
This simple series of 30 short daily routines is designed to cut your stress levels and boost your energy as efficiently as possible. Anybody can find seven minutes to practice qi gong, and that's long enough to shift you out of that "fight or flight" stress mode and help you relax deeply.
After 30 days, you'll have built a healthy habit that helps you improve your mood, clear tension, and recharge quickly every day. This series is also a perfect way to introduce someone you care about to qi gong. You'll feel better on day one, and as you continue to progress and revitalize your mind, body, and spirit, you'll find that wonderful things happen in all aspects of your life.