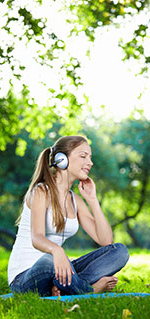 Self-hypnosis is a form of hypnotic meditation, especially when a prerecorded message is used.
The benefit of hypnosis for mental health has been an area of widespread research examining a variety of psychological and physiological illnesses. For instance, in a neurochemical study of hypnotic control of pain, patients suffering arthritis showed a substantial reduction in anxiety, depression and pain after hypnosis.
Below are some Hypnotic Meditations that can be purchased via our Amazon Affiliate Program. We have chosen to recommend Hypnotic Meditations that our clients have found effective in the past so our customers can receive the most benefits.
To learn more about each Hypnotic Meditation, follow the links for the items listed below. Some of them are consider audio CD books.
All Hypnotic Meditations on the All Things Well website are selected by the founder, Dr. Randi Fredricks, Ph.D., a practicing psychotherapist, bestselling author and acclaimed published researcher. Dr. Fredricks specializes in treating emotional health with complementary and alternative therapies.
As a psychotherapist trained in hypnotherapy, Dr. Fredricks pays special attention to the type of language used in these Hypnotic Meditations and their level of overall effectiveness. These are the Hypnotic Meditations she recommends to her patients when needed.
For more information on hypnotherapy, check out Dr. Fredricks' landmark book Healing and Wholeness: Complementary and Alternative Therapies for Mental Health.
Deep Sleep with Medical Self-Hypnosis (CD)
You counted sheep and drank warm milk-but you're still awake. Now what? On Deep Sleep with Medical Self-Hypnosis, Dr. Steven Gurgevich offers you an alternative solution: clinically proven mind-body techniques.
This easy-to-use program will help you achieve a good night's sleep and wake up feeling alert, alive, and refreshed. With five guided trancework sessions, you will explore how to sink into slumber effortlessly, and how to tap into the power of your imagination ands ubconscious mind to awaken with new solutions.
If you're tired of sleepless nights and groggy days, you're not alone. Now with Deep Sleep with Medical Self-Hypnosis, you can enjoy the fast track to restorative sleep through the power of your mind-body connection.
Heal Yourself with Medical Hypnosis (CD)
Major medical journals are finally beginning to recognize hypnosis as a legitimate clinical tool, citing proof positive that it can help ease chronic pain, lessen the side effects of chemotherapy, counteract anxiety and sleep disorders, and more.
On Heal Yourself with Medical Hypnosis, Dr. Andrew Weil joins Dr. Steven Gurgevich, a leading expert in mind-body medicine, to offer listeners a 2-CD session on how to use this amazing tool for personal healing.
On Part One, Dr. Weil discusses the physiological mechanisms behind the mind-body connection, while Dr. Gurgevich demystifies the practice of hypnosis through a concise account of its history and important case studies. On Part Two, Dr. Gurgevich introduces listeners to four trance induction methods, including trance deepening and a full session of self-healing with hypnosis.
Relieve Anxiety With Medical Hypnosis (CD)
Anxiety's source and antidote are one and the same: the mind. On Relieve Anxiety with Medical Self-Hypnosis, listeners join leading mind-body expert Dr. Steven Gurgevich for a liberating 2-CD program that teaches how to use the power of the subconscious mind to overcome worry, nervousness and panic.
This includes guided trance-work sessions to enhance skills of mental and physical relaxation, and produce the "relaxation response" whenever and wherever it is needed.
This is an excellent CD for anyone suffering with anxiety or panic attacks. On the first CD Dr Gurgevich explains everything there is to know about anxiety and panic. He talks about his own experiences with panic attacks and how he overcame them.